AwoRewards » Examples » Facebook Like Rule
Setup a Rule: Get a $10 gift coupon when you like us on Facebook
Step 1: Configuration
Go to AwoRewards -> Configuration -> External API's and enable Facebook
Step 2: Create the Coupon Code
You can create a coupon using either your shopping cart (Virtuemart, Hikashop, Redshop), or you can create a coupon code within AwoCoupon. In this example, a coupon code is created within AwoCoupon.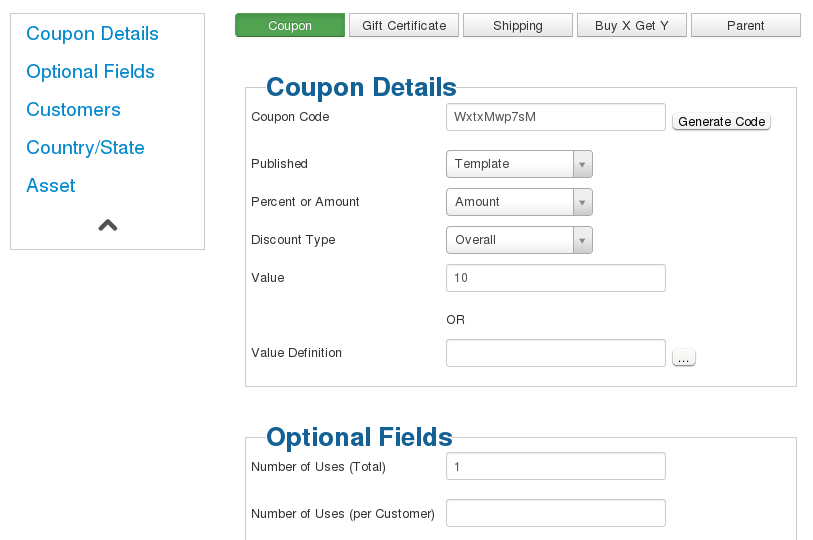 Make sure you select 'Template' under the 'Published' dropdown when using AwoCoupon
Step 3: Setup the Email Template (only if using AwoCoupon)
In AwoCoupon, go to Tools -> Profiles. You can make a copy of one of the templates or create a new one.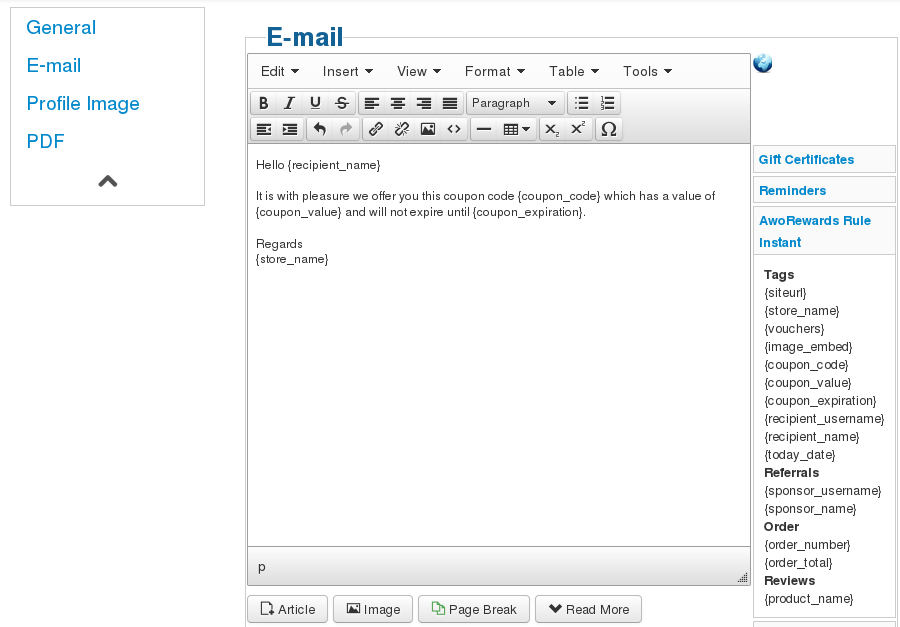 Step 4: Create the Facebook Rule
Go to AwoRewards -> Rule and create a new rule: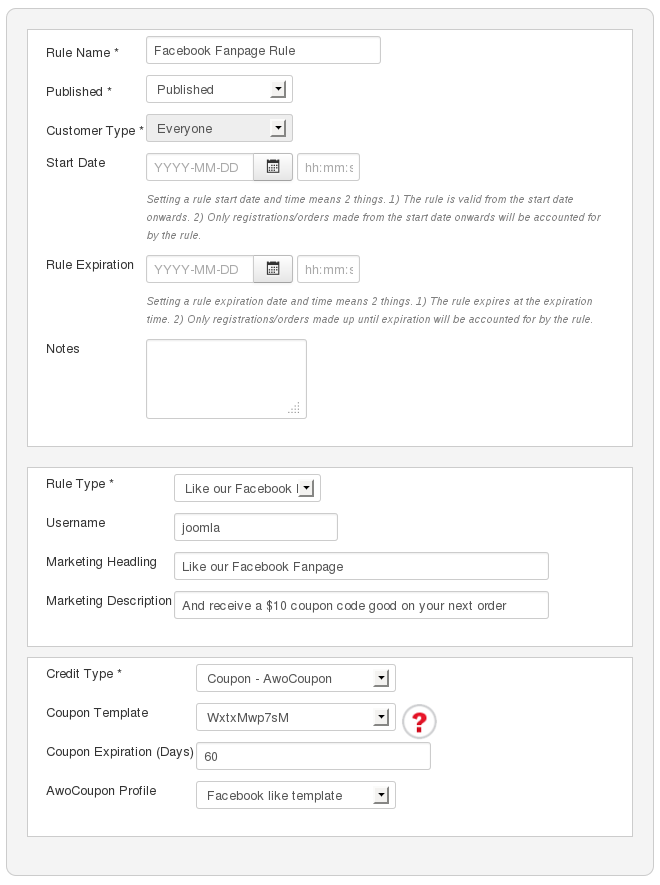 Rule Name
: the title of the rule
Published
: if the rule is published or not
Customer Type
: not applicable with social rules
Start Date
: the date the rule should become available
Rule Expiration
: the date the rule expires
Notes
: Internal administrative notes
Rule Type
: the type of rule being created, in this case, Like our Facebook FanPage
Username
: the fanpage username, This requires you create a vanity url for your Facebook fanpage. In this example, joomla username is used, this would like https://www.facebook.com/joomla
Marketing Headline
: the title text displayed to the customer viewing this promotion.
Marketing Description
: the description text displayed to the customer viewing this promotion.
Credit Type
: the type of credit this rule will use, in this case an AwoCoupon coupon
Coupon Template
: the coupon template duplicated when a qualifying customer is sent a coupon
Coupon Expiration
: how many days from the time it is generated should the coupon be valid for
AwoCoupon Profile
: the email template used when sending a coupon to the customer
Step 5: Promote the rule
There are 2 options here.
Option 1 - Create a page:
Go to Menus and add a new Menu Item.


Menu Title
: the title of the page
Menu Item Type
: select AwoRewards -> Promotions
Select Rules Tab
: select the rule(s) you want displayed on the page, up to 10
Option 2 - Create a module:
Go to Extensions -> Module Manager and create a new module.

Select a Module Type
: select AwoRewards Promotions
Title
: the title of the module
Select a Rule
: select the rule you want displayed in the module
Step 6: Expect a lot of likes
Your promotion is now displayed in the front end and customers can click it to use