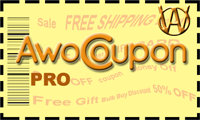 AwoCoupon is your intelligent coupon and gift certificate solution plus it has EASY all over it! Easy to install, easy to use, easy to manage all coupons and gift certificates...
Professional Coupons
Any type of coupons
you can think of is possible! Percentage off, Amount off, Bulk Buy discount, Buy one get the second one 50% off or buy skis and get €20 off ski boots... Easy with AwoCoupon! You can create a wide variety of coupons specific to products, customers, manufactures, vendors... and of course shipping coupons.
Gift Certificate Purchases
Sellable gift certificates!
These are automatically e-mailed after the purchase and it's up to you to define not just the e-mail, but create your own, store-specific gift cards. Multiple profiles possible, just pick your image, font, colors, texts... or use default settings.
Subscription Options
Subscriptions entitle you to updates and supports for 1 year from date of purchase

Compatibility
Prestashop 1.4.1 and up, 1.5.x, 1.6.x, 1.7.x
Coupon Features
Create discounts specific to

products, categories, manufactures, and vendors

(include/exclude)
Create discounts specific to

customers and customer groups

Buy X Get Y coupons

(read more)

Shipping coupons

- general or unique to shipper or shipping type (can be limited to specific products)
Option to

enter multiple coupons

in the front end
Parent coupons -

join multiple coupons into one

to create complicated promotions
Optional

start

and

end date

Minimum order total

trigger

Percentage off, Amount off, Bulk Buy discount, Buy one get the second one 50% cheaper...

Option to

exclude discounted products

from coupon promotions
Option to restrict coupon by country/state
Option to

use Prestashop coupon system

alongside AwoCoupon

Customize

coupon

error messages

Reports

- History of Customer Coupon Usage, Coupon Generated Sales vs Total Sales etc.

Import function

- great for creating large number of coupons
Gift Certificate Features
Sellable

gift certificates automatically emailed out upon purchase

Stored remaining balance

- customer can use gift certificate as many times as it takes to use up the value

Choose how your gift certificates look - Set up your own gift certificate profiles

(read more)
Optional

expiration

History of Gift Certificates Usage Report

Upload your own codes

Vendor Emails

- easily set up and send vendors vouchers that have been purchased instantly

Import function

- great for creating large number of gift certificates
Plug-ins and Integrations
AwoAffiliate
- Perfect for referral program based on coupon system. Lets you set up coupons for affiliates which they can use to promote your products and earn their commission on the sales.
AwoRewards
- Refer a friend program. Increase customer base instantly by rewarding sponsors for referring their friends. Also includes rewards for social actions on Facebook and Twitter.
Screen Shots
*** The installation of the module requires overrides, which is automatically installed in the /override directory.
Resources
Site Review
Excellent customer service and plugin!
Jared Scerbinski