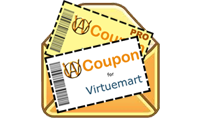 Do you need automatically generated coupons for your newsletters?
AwoCoupon Plugin for AcyMailing
gives you the tools you need. This plugin enables you to generate and include in your Newsletter a personal Coupon Discount powered by AwoCoupon.
Creating coupons is easy. Simply create your coupon within AwoCoupon and use that template in AcyMailing which will then auto generate coupons and insert them into the newsletter. The possibilities are endless. Listed below are some of its the features.
Compatible Shopping Carts

Versions: 1.1.x to 3.x

Versions: 1.5.x to 2.x

Versions: 1.1.x to 1.5.x
Features:
Auto generate coupons for your newsletters in AcyMailing
Template based coupons
Option to set expiration time frame
Option to restrict coupon to a specific user
1 year Free Updates (requires registration)
€1499

Resources
Site Review
Excellent customer service and plugin!
Jared Scerbinski